Hire Car Malaga Airport – Costa del Sol
Malaga airport is the forth largest airport in Spain after Madrid, Barcelona and Palma de Mallorca. Malaga airport has grown rapidly in passenger capacity over the past years. Now with a new terminal 3 in place and 2 new runways eastbound of the airport complex. The new terminal which is added to terminal 2 is forming a single passenger terminal area with capacity for more than 9000 passengers at peak hour.
Malaga airport arrivals
Most arrivals to Malaga airport will be redirected to exit in terminal 3. This new brighter and larger arrival hall gives a new welcome to our visitors. Passengers can be viewed from luggage claim to be timed to exit giving more space for waiting friends and relatives.
Malaga airport departures
Since the opening of terminal 3 terminal 2 has closed for departures for refurbishment. However, terminal 2 is still being used as check-in. Both terminal 2 and terminal 3 is joined together in an open space with check-in desks in a numeric straight line.
Malaga airport train
The Malaga Train station is very close to the terminal 3. The railway goes between Malaga and Fuengirola. The
city of Malaga
is only four stations away from the airport. We strongly recommend that you visit this historic and beautiful city.
Malaga airport hire cars
If you are traveling to Puerto Banus or Nueva Andalucia, you need a to  hire a car. We provide a valet service, which means that we wait for you in the arrival area. Our service is direct and you do not need to wait in lines at a desk to get your car.
Malaga Airport – Costa del Sol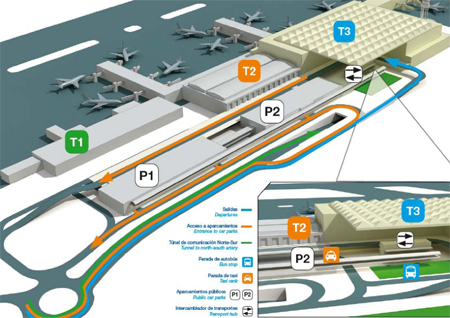 Terminal 1
Terminal 1 that used to be used for non-schengen flights has since the opening of terminal 3 been closed for traffic. Restaurants and shops have been closed or moved to the new terminal 3. Terminal 1 was opened June 1972 and closed March 2010.

Terminal 2
Terminal 2 also called Pablo Ruiz Picasso was first opened November 1991. Despite the name it was however the architect Ricardo Bofill that designed terminal 2. Since the new terminal 3, terminal 2 is undergoing a major refurbishment. The main check-in hall is joined with terminal 3 and is still operational.
Terminal 3
NEW Terminal 3 was opened in March 2010 and is almost the double the size of terminal 2. With this new terminal of architect Bruce S Fairbanks tourism is expected to increase in Malaga and costa del sol.
© Copyright 2010 - 2021 hirecar-malaga.com. All rights reserved